Liscio Basics
Utilizing Liscio:
Liscio is a tool that we are transitioning to in place of the Allman Johnson portal and email. Email is becoming less and less secure and the portal has proven to be a little difficult for many of our clients, so we're making the switch to Liscio, which is more secure and user-friendly. Liscio can be used from your desktop computer or from the LiscioPro app on your phone.
You will be using Liscio for one of two purposes; uploading a file and/or tax documents and messaging staff. Instead of using two forms of communication (portal and email) you can use one platform to do both while doing it securely.
1. To upload a file or message an employee, go to the top left-hand section of your Navigation Panel to the "Add New" tab and select either option.

*If you are using the mobile app, the navigation panel is slightly different. There isn't a "Add New" section on the mobile app. You can simply select from the navigation panel "upload a file" or "new message".
2. Messaging Staff
Step 1: Click +Message.
Step 2: Click "To" Field; enter recipient and account.
Step 3: Enter subject line and description.
Step 4: Drag and drop files or click browse.
Step 5: Click Send.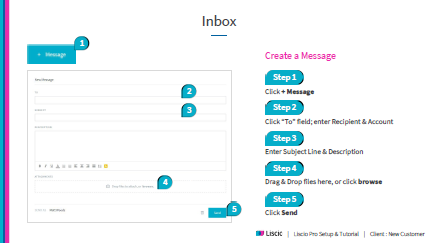 3. Uploading A File
Step 1: Click the +Upload File button.
Step 2: Select an account that this file is for (If you don't have a business, account will be under your name).
Step 3: Select the year for the file. (If it relates to 2017 tax year, select 2017).
Step 4: Add an associated tag (this feature is for future search references).
Step 5: Drag and Drop or browse the file you wish to upload.
Step 6: Click Upload.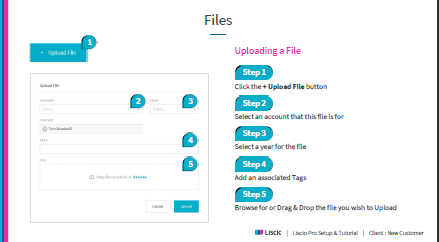 Tip #1: Any files that have been uploaded by you or a staff member will be located in your FILES section on the navigation panel. This will include organizer, tax returns etc.
Tip #2: If you forget your password while logging into your account, please click on "Forget Password" and then "Send Magic Link". This will prompt Liscio to send you a link to your email. You will not need to change your password.
As you can see, Liscio is simple to use. However, we understand it takes a little time to get used to new websites and technology. If you ever need assistance, please contact Kristin or Melinda at the Allman Johnson office.
Kristin- Office@allmanjohnson.com; 317-843-1040 ext. 114
Melinda- MLain@allmanjohnson.com; 317-843-1040 ext. 101